About Us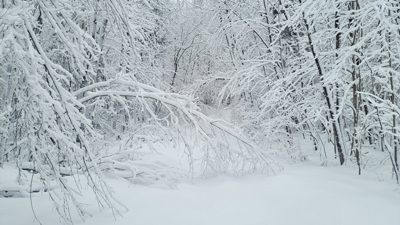 Trail cleanup, after a heavy snow.
Founded in 1972, Three Lakes Trails, Inc. maintains and grooms 186 miles of snowmobile trails in Oneida and Forest Counties. We have three groomers that operate out of Three Lakes, and one groomer that is based in Alvin, Wisconsin. Our professional staff are primarily volunteers.
Roster Of Equipment
2021 John Deere tractor - 6155R, with tracks
2019 New Holland tractor - T6.175, with tracks
2018 Pisten Bully - 100
2014 Pisten Bully - Trail Bully
2023 John Deere tractor - 6120M
2014 John Deere UTV - Gator, with tracks
Northwoods Charm
Every day is sure to bring you a new and different snowmobiling experience! Don't forget to include downtown Three Lakes on your trail riding agenda. Our trail system will give you easy access to the many amenities that our downtown area has to offer. Once there, you'll experience the old-fashioned charm of the Northwoods. Our main street is lit by antique lampposts and lined with very unique gift shops, restaurants, taverns and other small businesses.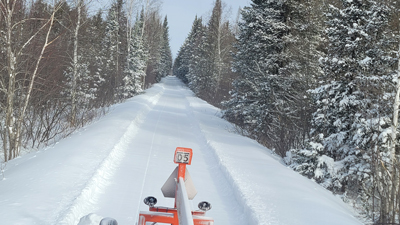 Groomed trail, on the grade to Monico.
The community's greatest natural resource is the largest Chain of Lakes in the world, 28 interconnected lakes stretching northward to Eagle River, Wisconsin. Stay on the marked trails and you will be rewarded by the scenic beauty of the Three Lakes Chain. Then, venture to the Northeast and discover the remote beauty of the Brule River Trails. Be sure to stop and sample the warmth and hospitality to be found at the local taverns and eating establishments.